SPAN-TECH custom designs wide scope of buildings.
By Carol McDonald
The Business Executive, 2002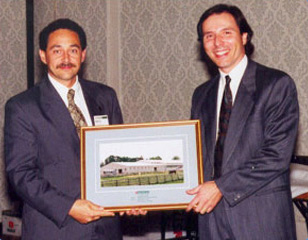 OAKVILLE - You can drive through almost any major community in Ontario and find a Span-Tech building. In fact over the past 15 years, Span-Tech has sold over 700 complexes, averaging almost one per week and while most are in Ontario, Span-Tech has shipped from Quebec to British Columbia and most recently to the Bahamas and Africa.
What's even more impressive is that Span-Tech is a one-man business, owned and operated for over a decade by Darell Morris. Morris is the leading dealer in volume of nearly 100 North American dealers for Steelway Building Systems of Aylmer, Ontario and he's also in the top five in overall dollar sales.. While many of the other dealers are also the builders or contractors, Span-Tech specializes in "drop-shipping" custom buildings ready for their clients contractors to erect.
Span-Tech Steel Buildings Limited offers fully-customized buildings for a wide variety of end uses that require clear span of up to 300' wide. Their pre-engineered steel trussed are made to order by Steelway for each customer and offer almost unlimited building length and expandability.
Clear-span buildings (that is, without supporting interior posts) are essential for sports complexes like hockey, soccer and indoor riding arenas and for aircraft hangars.
Clear-span is also a major design asset in industrial and commercial buildings where inside maneuverability is required for shipping, tow motor access and design aesthetics.
Darell Morris states that Span-Tech buildings, besides being versatile and cost-effective because they are pre-engineered, can be assembled easily and quickly and are readily transportable in containerized shipments that can go virtually anywhere. (Last winter he shipped two hockey arenas to native reserves north of Winnipeg loaded on eight semi's, each carrying 50,000 lbs., over frozen lakes and lumber mill roads.) The arched spans are as strong as conventional flat-roof building systems and there has never been a truss failure in company history, even in the eastern Ontario ice storms on the 90's.
But Morris attributes his sales success to his personalized customer service and commitment to quality.
"I would rather walk away from a job than compromise quality," he states.
"Every building we sell meets or exceeds building codes. I don't tender because I know I won't win on low bid alone. I do however get lots of calls from people needing the mistakes fixed after they chose the lowest bidder. When my customers realize the quality and service that goes into every Span-Tech job, they will often waive their tender policy. That's how I got jobs for Magna, Goldcorp. and Inco."
Morris works personally through every phase of the project with each client in person on the phone, by fax and e-mail.
"We work through the basic design and the customer's needs, determine the costing, produce technical drawings and certificates to assist in the building permit requirements,"
Morris explained. "I'll work with the customer's contractor or project engineer or even recommend one if they need it. The most interesting part of the job for me is that I have literally never produced two building the same. Each is unique in purpose, in finishes, in design, in setting.
"By the time we've produced our six full sets of drawings for customer approval and building permits and another six final sets for erecting the building, I know every aspect of that building inside and out. More than that, I've established a relationship with that customer and a trust with them that they will be getting the best quality and exactly what they need."
Darell Morris also credits his supplier Steelway Building Systems as an essential element to his success.
They are a Canadian manufacturer with a worldwide reputation for excellence and a 30 year track record. They've developed their manufacturing techniques to a very high level of sophistication that ensures that every piece they make is computer cut and welded to exact specifications. That attention to detail is reflected in the assembly and integrity of each custom building Span-Tech sells. TBE